Arizona State University (ASU) Sun Devils | Top Party Schools Review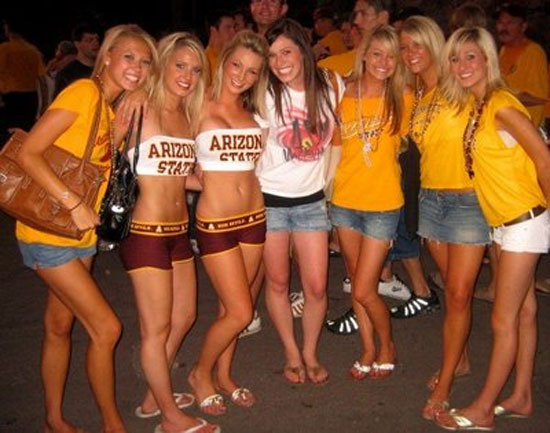 Arizona State University
Mascot: Sun Devil
ASU make noise in the top party school headlines each, and every, year. Known mostly for the great weather and beautiful student body…mostly bodies. They've also made national headlines several times for frat of house parties getting out of hand. With over 72,000 (total) hot students and hot climate, ASU is a random hook up enthusiast's domai
n. Greek life runs a great deal of the party scene, throwing several pool parties a week, where dozens of half-naked ASU hotties go to cool off, blow off steam and givein to their libidos. The Sun Devils' best sports team would have to be their Baseball team, but the most student-attended sport is Football which has steadily improved recently. Their Football team isn't usually too good, they played in the Fight Hunger Bowl in 2012, but they are D-1 in the Pac-10…excuse me, Pac-12 division so the games are exciting and the weather is always awesome. ASU is a school that constantly proves going to college isn't just about learning, you're allowed to have a little fun from time to time. Their time, just happens to be whenever you're not in a classroom.
Party Grade: A+
Undergrads: 58,404
Guys: 49%
Girls: 51%
Greek Life : Yes,m
ore than 3,000 undergraduate students participating in more than 50 chapters. Arizona State has a very solid Greek life and can keep up with the nations best.
Main Bars/Hangouts at ASU:
The Library Bar & Grill
Dos Gringos Trailer
Tavern on Mill
Make sure that you let us know what you what you think about ASU's party scene in the Comments section!.Check out the I'm Shmacked video below to see how ASU gets down!