Syracuse Assistant Basketball Coach Bernie Fine Guilty of MOLESTING a Former Ball Boy ? | BREAKING NEWS
This is crazy! Just when you thought Penn State was in the ultimate trouble , it looks like Syracuse University is under some fire.  ESPN says "Syracuse assistant Bernie Fine is Under Investigation for Molesting a Former Ball Boy".  WHAT THE
FUCK!!?!  It is almost like the Mayan calendar end date castaphrophies are happening now.  Facebook is under attack by trolls and spammers, Penn State is under fire for raping 10 year old boys and now BERNIE FINE is under investigation for molesting little boys.  #thatshitcray !  Apparently, he was molesting this "ball boy" in the 1980′s and now it is coming up. Where were the parents? Where are the faculty members and councellors?  Why is the ball boy coming out now? These questions need to be answered soon!
ESPN.com says " The alleged victim, Bobby Davis, now 39, told Outside the Lines that Fine molested him beginning in 1983 shortly before Davis entered the seventh grade." The Penn State Jerry Sandusky Scandal may have opened a terrible can of worms that college sports fans, and everyone else, is going to wish they could unsee. Personally, I can't wait to see what is going to happen in the next few days.  This situation reminds me of   the Leonardo DiCaprio movie " Basketball Diaries" ( the movie where the coach performs oral sex on a young  DiCaprio).
You can read all this on ESPN!   This is so crazy because whats the chance that 2 big schools in the East would have these scandals?  This  Thanksgiving, give thanks that you weren't molested ( unless you were molested, then you need to come out and tell apparently)
Update #1:
"Bobby Davis, now 39, told ESPN's Outside The Lines that he was a constant companion of Fine that began in 1983, when Davis was entering the 7th grade. The alleged actions took place at Fine's home, Syracuse basketball facilities, and on road trips. What makes this story troublesome for Boeheim is that while the head coach may not have had explicit knowledge of these incidents, Boeheim allegedly walked in on Fine in his shorts or Davis on Fine's bed. Furthermore, no one questioned this close relationship between an adult and teenager." – Bleach Report.com
In 2005, Syracuse University looked into this matter with the official statement:
"On hearing of the allegations in 2005, the University immediately launched its own comprehensive investigation through its legal counsel. That nearly four-month long investigation included a number of interviews with people the complainant said would support his claims. All of those identified by the complainant denied any knowledge of wrongful conduct by the associate coach. The associate coach also vehemently denied the allegations.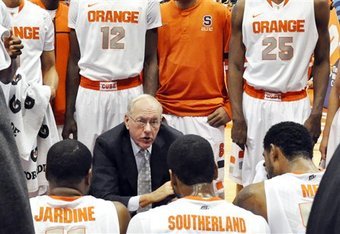 "Syracuse University takes any allegation of this sort extremely seriously and has zero tolerance for abuse of any kind. If any evidence or corroboration of the allegations had surfaced, we would have terminated the associated coach and reported it to the police immediately. We understand that the Syracuse City Police has now reopened the case, and Syracuse University will cooperate fully. We are steadfastly committed ensuring that SU remains a safe place for every member of our campus community."
There are still a good number of questions to be answered here and I stress that this is all alleged. There is no Grand Jury document nor other victims coming forward as Davis is. Syracuse will more than likely suspend Fine and cooperate with the investigation. What this investigation uncovers remains to be seen.
Share this post on Facebook so everyone can know about this. Its crazy how this will potentially lower my chances in getting jobs. SMH, #LIFE
More info about this scandal on ESPN.com !
If you want to party in your area or college this Thanksgiving break or any other college break,  join FiestaFrog.com . Hopefully the parties are molestation free.
For more shocking news follow @GDecelia and @SUparties on Twitter!
Peep these too!