Clemson University (Clemson) Tigers | Top Party Schools Review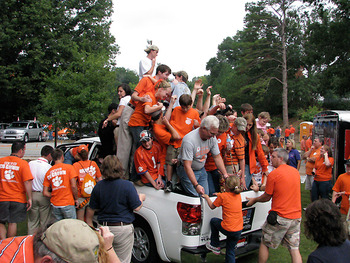 Clemson University
Clemson, South Carolina
At Clemson University, regardless of who you are, there are plenty of people for you to befriend. The social life of Clemson is closely tied to both theFootballteam,students and other fans can be found tailgating before each game, and the Greek community at the school. You may find that the fraternity/sororiety crowd are people you want to know because of their party connects, but also because they're cool on an individual level. It's easy to balance social life and academics at Clemson, it's a "do your work during the week, go hard over the weekend" kindofschool.
Mascot: Tiger
Party Grade: B-
Undergrads: 16,562
Guys: 54%
Girls: 46%
Greek Life at Clemson: Yes, there are close to 30 nationally-affiliated fraternities and sororities on campus.
Bars/Hangouts at Clemson:
Nick's Tavern & Deli
Tiger Town Tavern
Let us know what you think about Clemson's party scene in the comments section. Check out the video below to see what it's like to party at Clemson!
Don't forget to vote!