Five Hilarious College Pranks | College Jokes
Nothing matches the excitement and the sense of achievement one feels on graduation day. After years of "hard" work, spent in dusty libraries and sleepy college dining halls, drinking as much coffeeasany other person would consume in a lifetime, graduation represents an important symbolical step. It is the moment we leave our adolescence behind, the moment the doors of adulthood open up fully to us, the day we're allowed to wear Gothic looking gowns and hats that makes us all feel like we're out of Hogwarts, without the usual strange looks!
Fun doesn't have to finish, though, when the official part oftheday ends, in fact, that's when you, the graduate, and your mates can really start play around and create some memorable memories: a quick read around the net will show you that graduation pranks have always been pretty common. In 1896, for instance, in occasion of an important football match between Georgia Tech and Auburn, Auburn students greased the train tracks at the station in such a way their rivals' train could not stop and slid for about ten miles out of town, ten miles the Georgia Tech athletes had to walk back. The day of the match, they were so
exhausted they lost 45-0. If you'd like to keep it more practical, but leave a mark on the annals of your university's history, you may like to recreate some of the humorous ideas proposed by collegehumor.com, they could cost you some disciplinary issues, but how fun would it be to order a pizza and get it delivered while you receive your degree on stage? Let's face it though, a prank on graduation day would not be a prank if a professor weren't involved, here are five excellent (and not too un-p.c.) ideas to put a smile on your fellow graduates and, why not, your teachers:1. Transform your University Observatory in a sci-fi character, as the student at Carlton College did.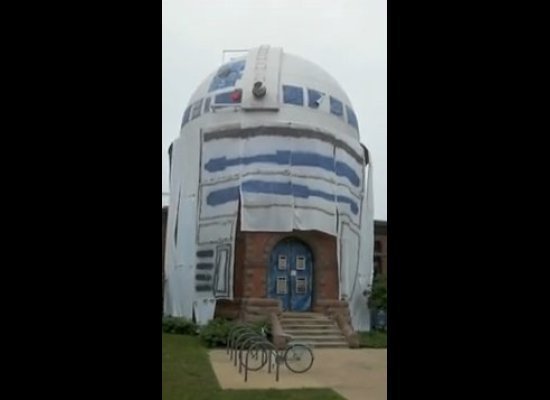 2. Create an entirely non-sensical research paper and get it accepted in some high-standard academic publication, just as these MIT students did in 2005.
3. If there is a fountain on campus, you may try to turn it into a bubble bath, just as these students did in high school.
4. Write something funny or outrageous on a post-it and stick on your graduation hat!
5. Let's finish up with a classic; talk with some other graduates and organize the wave in full soccer stadium style, or prepare some funky message on placards to lift up during conferral.
As you can see, the ideas are plenty and some of them can be truly outrageous. If you're planning to make your graduation day even more remarkable than expected, and then try something funny and quirky, but make sure that, by doing so, you're not making it hard on somebody else: remember, a good prank should make everybody laugh, and nobody upset.