Miami University (OH) Redhawks | Top Party Schools Review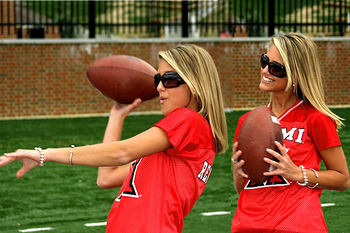 Miami University
Oxford, OH
Students at Miami (OH) love them some parties, people go out on the weekends and the weeknights. Part of the experience at this college,is enjoying the small portion of your life when you can go YOLO. If you are anti-social and don't like people having a good time, Miami probably is not the right place for you, and you should consider a move. The Greek system is another factor, to take into account, when you consider Miami (OH) nightlife. The portion of campus that are in organizations, stick to their societies and have few friends outside of the group. The sports at Miami (OH) are "middle of the pack".
Mascot: Swoop the Redhawk
Party Grade: B
Undergrads: 14,872
Guys: 49%
Girls: 51%
Miami (OH) Greek Life: Yes, Greek life is present on campus; they have a large following.

Bars/Hangouts at Miami (OH):
Circle Towne Tavern
SteinKeller
Make sure that you let us know what you what you think about Miami (OH)'s party scene in the Comments section! Check out the video below to see how the Redhawks party!