Top College Movies of All Time | College Experience
Listen Freshman! If you want to understand what college is like, do NOT watch these movies. These are great "college movies" but college is nothing like this. Remember these are movies.Watchthe trailers after reading the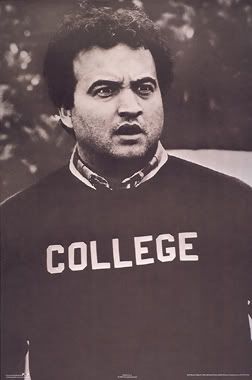 reviews. Source – BestOnlineColleges
The college movie is as much a staple of American life as, well, going to college. It's not hard to see why. The university experience is a rite of passage for many people, and it's also the last time you can legally get away with that much stupidity and questionable taste. From party flicks to coming-of-age dramas, there's a movie for every type of student or situation. Stock your DVD shelves with these and enjoy:
<strong>Drama
1. Good Will Hunting
Even though they'd been acting for several years, this is the movie that put Matt Damon and Ben Affleck on the map, both for their performances in lead roles and for penning the original screenplay. Robin Williams won an Oscar for his supporting role as a therapist who helps Will break through and get in touch with people around him. A great movie about growing up and taking responsibility.
2. Rudy
I dare you not to cry in the final moments as Rudy realizes his lifelong dreams to play for Notre Dame. Not just one of the best sports movies ever made, Rudy is also a great movie for students struggling to deal with the major turning points in life that come with being in college.
3. The Paper Chase
Based on John Jay Osborn, Jr.'s novel, The Paper Chase follows a young man through his harrowing first year at Harvard Law School. John Houseman's turn as the intimidating contracts professor — his first major film role, at age 71 — won him an Academy Award. The film spun off into a TV show, but the movie's the one to watch.
4. Drumline
The film that made band geeks just a bit cooler, Drumline is about the competition between college bands who use halftime at football games to let their music shine. Even with a predictable story, it's a fun look at college life, and the performance scenes are great.
5. Breaking Away
Taking a look at the flip side of college, Breaking Away is an inspirational drama about college-age kids trying to figure out what to do with their lives. Latching on to bicycle racing, they race in Indiana University's Little 500.
6. We Are Marshall
Based on a true story, We Are Marshall deals with the tragedy of the 1970 plane crash that killed almost all of the players on Marshall University's football team, the attempts torebuild the program, and the local community's slow process to come together again. A sad but moving tale.
7. Wonder Boys
More of a comedic drama, Wonder Boys is based on the novel by Michael Chabon and stars Michael Douglas as a middle-aged literature professor whose personal and professional lives are spinning out of control. Witty and warm, with great performances from Robert Downey, Jr. and Tobey Maguire.
8. School Daze
Spike Lee's second film fuses music, politics, and class struggles to break down the battles between fraternity students and others during homecoming weekend at a black college. An incisive drama from an accomplished filmmaker.
9. The Rules of Attraction
Based on the novel by Bret Easton Ellis, this pitch-black satire deals with a group of listless, lustful characters plagued with an apathy about their lives and sexual conquests. Not exactly a pick-me-up, but a brave college flick nonetheless.
Comedy
10. National Lampoon's Animal House
The granddaddy of them all, and hands-down one of the best college comedies of all time. It invented the whole "loser students rebel against a tightwad dean by partying" genre that ran rampant throughout the 1980s. Wacky, hilarious, and a total must-see for all students.
11. Revenge of the Nerds
Despite a string of lackluster sequels, the original Revenge of the Nerds remains a goofball classic. Dig a young Anthony Edwards and Timothy Busfield as two of the losers at Lambda Lambda Lambda house.
12. Accepted
Justin Long, known for the "I'm a Mac" ads, stars in this catchy comedy about a group of misfits who don't get accepted to college and wind up creating their own. It also features a younger Jonah Hill before he became known for movies like Superbad.
13. Slackers
Admittedly not the best film in the bunch, Slackers still has a lot going for it, especially Jason Schwartzman as a geek trying to blackmail his way into friendship with the cool kids, who include Jason Segel.
14. National Lampoon's Van Wilder
Ryan Reynolds is perfectly cast as the smarmy but charming Van Wilder, an undergrad who refuses to grow up and who rules the campus as the party king. Van frequently breaks the fourth wall and looks directly into the camera, a la Ferris Bueller's Day Off.
15. Harold & Kumar Go to White Castle
Most stoner comedies are, well, terrible, but Harold & Kumar Go to White Castle is surprisingly fun. It traces the increasingly epic adventures of two college students on a road trip to find White Castle burgers, an act that turned the phrase "going to White Castle" into slang for getting high.
16. Real Genius
Starring a young Val Kilmer (in his second film ever), Real Genius is a quick-witted comedy about geniuses at a college modeled after Caltech and their conflict with a tough professor. It's a cult classic.
17. PCU
Lampooning the political correctness craze of the early 1990s, PCU stars Jeremy Piven as the leader of a party fraternity that just wants everyone to stop getting in fights over various causes and learn to party together.
18. Old School
The film that kicked off Will Ferrell's comedy streak, Old School is the spiritual descendant of Animal House. The story follows a trio of grown men who form a fraternity in order to inject some fun into their lives, and Ferrell and Vince Vaughn are hilarious.
19. Legally Blonde
A cute concept that works thanks to Reese Witherspoon's personality, Legally Blonde is a winning comedy about a ditzy girl who enrolls in Harvard Law to win back an ex and winds up discovering herself in the process.
20. Dead Man on Campus
Dead Man on Campus is a wicked little comedy about the urban legend that says a student automatically gets straight As for the semester if their roommate commits suicide. A pair of roommates recruit guys they hope will off themselves in order to reap the benefits.