You ever wonder which colleges had the most eye candy to gawk at? Well, the people over at *The Daily Beast* did, and they were kind enough to "scientifically" generate a list of the 25 Best Looking Colleges in America. Other than just averaging the overall attractiveness of the students, The Daily Beast also took scenic beauty into consideration as well. So, if you're disappointed that your school didn't make the cut, don't go blaming your parents' DNA just yet. Who knows? Maybe you're not the ugly one, but your school is… hey, what ever helps you sleep at night. Look at the bright side, most likely your school probably doesn't have asbestos.
Click on the school of your choice to find out where the parties are in that area… who knows? Maybe you'll party with some hot chicks for a change!
If your school is on this list, you should be honored! Comment your thoughts below the list.
25. College of William and Mary
21. Texas Christian University (TCU)
20. University of Central Florida
18. The University of Texas at Austin
13. University of California-Santa Barbara
11. Loyola Marymount University
09. University of North Carolina
02. University of Wisconsin, Madison
Notes from the author:
College of William and Mary- Congratulations College of William and Mary, you might have one of the best looking campuses in the whole entire country. However, based on your cheerleading squad, it's safe to say that the females at your school are fucking hit.
Pepperdine University- In the looks department, the guys and gals attending Pepperdine University only average out to a B+. However, Pepperdine's campus looks fucking sick.
Ohio State University- I know this picture of the 1976 OSU cheerleading squad isn't very flattering, but fuck Ohio State.
University of Georgia- Yea, I'm a little surprised that the Bulldogs made the cut too.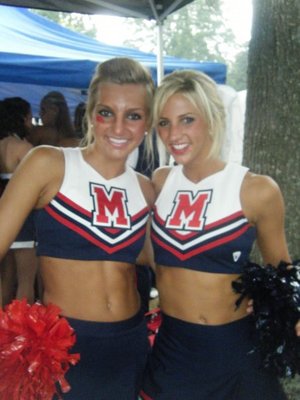 University of Mississippi- Apparently, there is no shortage of attractive people at The University of Mississippi. Who would've ever of thought that M-I-S-S-I-S-S-I-P-P-I would be the one's hoarding all of America's finest?
//
comments