Top 5 Sexiest Campuses 2015 |Hottest Students
Here are the Top sexiest Campuses of 2015. Comment and share to show that you rep your school and it is indeed one of the sexiest campuses in the world!!.
| | |
| --- | --- |
| 5 | University of Florida |
| 4 | Florida State University |
| 3 | University of Alabama |
| 2 | University of Wisconsin, Madison |
| 1 | University of Mississippi |
Notes from the author:
College of William and Mary- Congratulations College of William and Mary, you might have one of the best looking campuses in the whole entire country. However, based on your cheerleading squad, it's safe to say that the females at your school are fucking hit.
Pepperdine University- In the looks department, the guys and gals attending Pepperdine University only average out to a B+. However, Pepperdine's campus looks fucking sick.
Ohio State University- I know this picture of the 1976 OSU cheerleading squad isn't very flattering, but fuck Ohio State.
University of Georgia- Yea, I'm a little surprised that the Bulldogs made the cut too.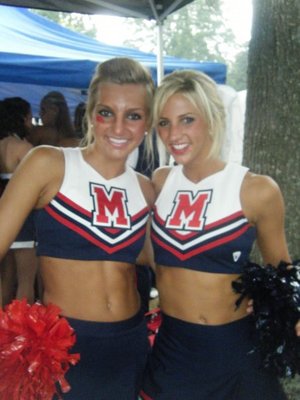 University of Mississippi- Apparently, there is no shortage of attractive people at The University of Mississippi. Who would've ever of thought that M-I-S-S-I-S-S-I-P-P-I would be the one's hoarding all of America's finest?