Top 50 College Bars in the Country 2015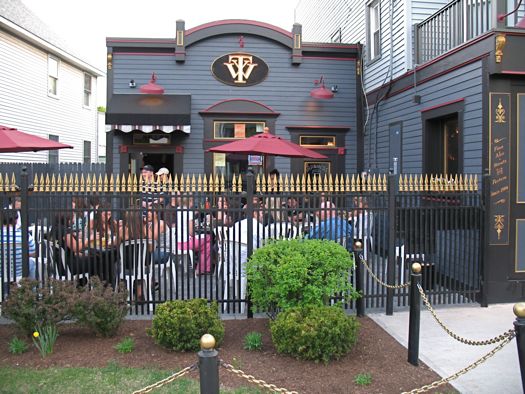 If you feel as though I may have missed one, tell me in the comments below. If you happen to see a bar that you absolutely despise, don't shoot the fucking messenger. Seriously, it's not my fault if the chicks there think you're creepy.
To find bar specials and party's at your school, check out fiestafrog.com or click one of the following locations below.
You can also check out the 25 Sexiest Campuses in the USA!
Top 50 College Bars and Hangouts in the Country
Knight Library, Orlando, FL
Duffy Tavern, Lincoln, NE
Harpo's, Columbia, MO
Chuck's Cafe, Syracuse, NY
Kirkwood Avenue and 10th Street, Bloomington,IN
MargaritaRocks, Tempe, AZ
Big Al's Sports Bar, Blacksburg, VA
Eskimo Joe's, Stillwater, OK
901 Bar & Grill, Los Angeles, CA
Fred's Bar, Baton Rouge, LA
Bullwinkle's Saloon, Tallahassee, FL
War Eagle Supper Club, Auburn, AL
The Tombs, Washington, DC
Madison Bear Garden, Chico, CA
Out-R-Inn, Columbus, OH
Top of the Hill, Chapel Hill, NC
AJs Sports Bar and Grill, Tallahassee, FL
Blue Leprechaun, Ann Arbor, MI
Preservation Pub, Knoxville, TN
Corby's Irish Pub, South Bend, IN
Olde Queens Tavern, New Brunswick, NJ
Flanagan's Bar & Grill, Athens, GA
The Phyrst, State College, PA
Cowbell's Sport Grill, Starkville, MS
Sports Column Bar, Iowa City, IA
The Washington Tavern, Albany, NY
Reno's East Side Sports Bar & Grill, East Lansing, MI
The Library, Chapel Hill, NC
The Swamp Restaurant, Gainesville, FL
The Dixie Chicken, College Station, TX
The Church Brew Works, Pittsburgh, PA
Dain's Place, Durham, NC
The Bulldog, Baton Rouge, LA
6th Street, Austin, TX
Tiger Town Tavern, Clemson, SC
Buffalo Phil's, Tuscaloosa, AL
Aggieville, Manhattan, KS
Grub's Bar & Grille, Fayetteville, AR
Chippewa Street, Buffalo, NY
Wayne & Larry's Sports Bar, Lawrence, KS
The Sink, Boulder, CO
The Boot, New Orleans, LA
Walker's Pub, Athens, GA
The Keg, Evanston, IL
The Cooler, Eugene, OR
Campus Bar & Grill, Columbia, MO
The Back Door, Morgantown, WV
Beer Run, Charlottesville, VA
Ivy Inn, Princeton, NJ
The Albatross, Berkeley, CA